How to measure your kitchen to make sure it can accommodate a dishwasher
These days, the standard size of a dishwasher is 24 inches wide by 35 inches high by 24 inches deep. However, unless you measure your dishwasher's rough opening (or existing space), you won't be certain that space will be suitable.
If cabinets have been changed, or tiles added the rough opening can be smaller and there may no longer be room for a dishwasher the same size as before.
Fitting appliances is always a challenge. Any mistake can be expensive, so it is worth taking your time and making sure that you have the correct measurements before buying the appliance or cutting units to fit.
The old carpenter's adage that you measure twice, cut once; is very true in this case. Not measuring correctly, could result in you having large appliances that you have no space for, so pay particular attention when measuring up for a new appliance, such as a dishwasher, otherwise, this can be an expensive mistake.
Where you already have an existing appliance, such as a dishwasher, you could easily be mistaken for thinking that it's simply a matter of pulling out the old appliance, recycling it, and installing the new dishwasher in its place.
Of course, sometimes this can be the case, but it's better to take care when noting down measurements, double-checking that they are right.
Fortunately, even in circumstances where the rough opening is smaller than the standard size, there are options available to you, and you can still have a new dishwasher.
These days, there are a wide variety of smaller portable dishwasher options. If this leaves too big a gap, it is simple to buffer the sides with trim and cleverly disguise additional space.
Here is the best video tutorial on how to measure the space required for a dishwasher:
What extra space do you need (for drain, electricity connection, etc)
Whichever style of dishwasher that you decide to install, there are a few things to take into consideration:
You will need to install your dishwasher near the water supply in your kitchen
You will need to connect your dishwasher to a power supply
You will need to make sure that your dishwasher is no more than 3 feet away from the power supply.
Water and waste pipes should be no more than 20 inches away from your dishwasher.
Leave enough space to open your dishwasher door fully, without catching it on other appliances and cupboards.
Dishwashers need to be connected up to the power, water, and waste supplies. If you have purchased an Integrated appliance, it will come with all the fixings required to attach your dishwasher to your worktop, and also to attach the door.
Most dishwashers will be connected directly to your hot water supply, but some models can be connected to the cold-water supply, allowing them to take advantage of an energy-saving properties heating element within your dishwasher itself.
If yours can be connected to the hot water, be sure to use the correct hot water hose, designed to withstand the scalding hot water.
One particularly useful dishwasher, especially for travel is made by Farberware. This dishwasher allows you to clean your dishes anytime, whether camping, On a boat, RV or even at a music festival, the uses for this dishwasher are limitless.
The built-in water tank and quick faucet hook-up makes this a perfect solution if you need a dishwasher but don't have access to a water supply.
How to Fit a Dishwasher if the Opening Is Too Big / Dishwasher space too small / Dishwasher too tall?
The simple task of replacing a dishwasher can make a kitchen look terrible if the size is wrong. When a dishwasher is too small, the gap around its perimeter becomes distracting and ugly.
This space seems to attract dust and noise from running the machine becomes unbearable. There is no need to put up with ugly gaps around your dishwasher, instead, this space can be filled in an aesthetically pleasing way.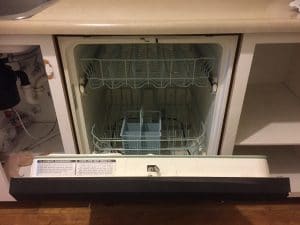 Measure the length and width of the space carefully between the dishwasher and the cabinets. If the sizes you measure appear different on each side, center the dishwasher to minimize the gap and even up both sides.
Trim two pieces of filler wood with a saw to perfectly match the gap.
Lay the wood over a newspaper or old sheet. Now, paint or stain the cabinets as you choose.
Let the wood dry for at least 12 hours.
Pull the dishwasher out. Shut off the water supply completely. Disconnect power cords and water hoses that can no longer reach.
Press a piece of wood filler against the side of the cabinet wall and drill in the wood using a screw. Repeat this on the other side.
Slide the dishwasher back into position and reconnect all the cords and hoses.
In the case where a dishwasher is too big for the assigned gap, it can often be made fit by carefully using an electric plane. This can be used to thin down the worktop, cupboards, and even the floor.
However, it is much more sensible to measure the gap first and where necessary invest in one of the many compact dishwashers that are now easily available.
Compact dishwasher options (the small dishwashers dimensions)
There are a wide variety of dishwashers available from under 18 inches wide, 20 inches deep and 20 inches high. Many of these dishwashers were dishes just as well as the full-size version but have the added advantage that they can sit on the counter or fit in a small space.
In conclusion, washing dishes needn't be something that we dread, even if we live in a small apartment or condo, there are many options to purchase a small dishwasher that can fit into your home or lifestyle perfectly.
For those with extra space, it is worth investing in a full-size dishwasher that can accommodate 16 settings.
Full-size dishwashers are equipped with all of the latest technology and time-saving programs which make dishwashing easy and effective, almost enjoyable.
Many modern dishwashers come with quick programs that can wash a full load in just 30 minutes or less. This is perfect when you're in a hurry. A great addition to a dishwasher is a sliding cutlery basket, which allows for flexible loading and some dishwashers even include additional cutlery trays.
However, only having space for a compact dishwasher does not necessarily mean that you have to miss out. In fact, many of the smaller compact dishwashers offer fantastic capabilities, but just in a smaller size.
These days, dishwashers are available in a wide variety of price ranges and there really is the perfect dishwasher out there for everyone. It is even possible to purchase a dishwasher that is suitable where it is not easy to connect to a water supply.
Do you need a plumber to install a dishwasher?
Whilst it's often sensible to call a plumber or have a professional install your expensive new appliance, this is a job that can be done at home. Dishwashers are usually installed near sinks. This reduces the amount of plumbing required, minimizing the need to hire a plumber, and keeping the costs down.
When taking out your old appliance, it is very important to take particular care when removing your old dishwasher and pay particular attention to measuring the gap carefully.
This will ensure that your installation goes as smoothly and trouble-free as possible. In some cases, you will need to loosen the countertop or remove the flooring to successfully hook up a dishwasher. Always turn the power off to the dishwasher at the main panel or unplug it.
You can expect your brand new dishwasher to last anywhere between seven and 12 years. The life expectancy of your dishwasher will be affected by the cost of your appliance, it's quality, it's brand, how well you care for and clean your appliance, how frequently you maintain your appliance and how frequently you use it.